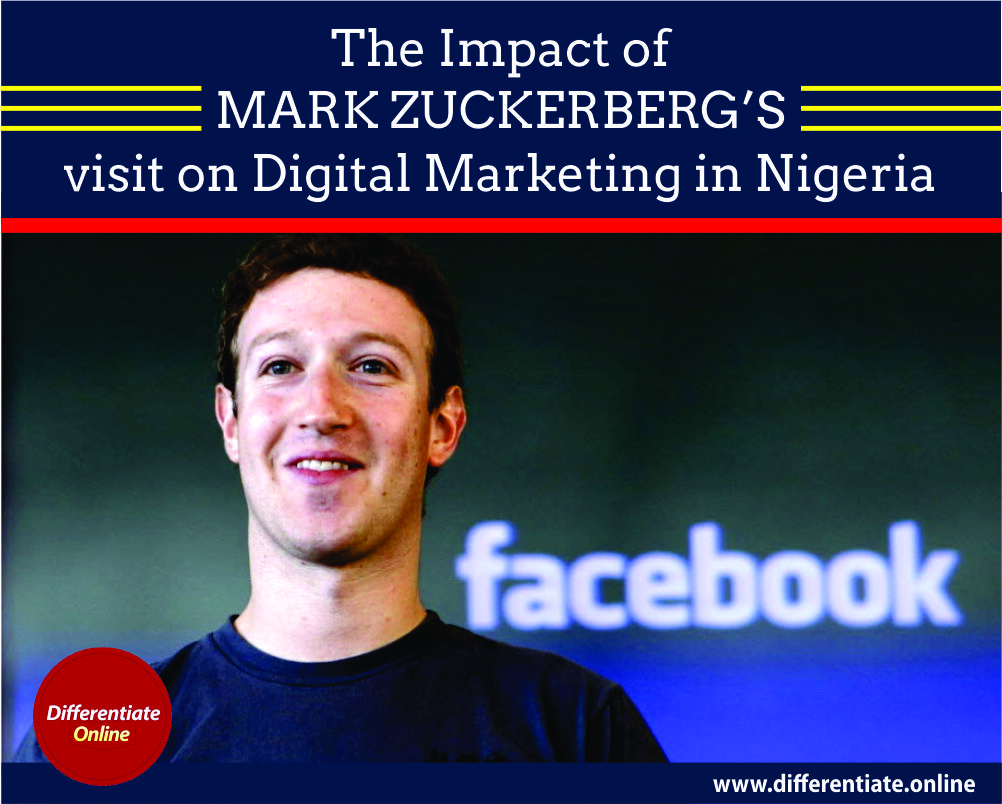 This article is a digital marketing's perspective on the impact of Mark Zuckerberg's visit to Nigeria.
When the 5th richest person in the world and the founder of the largest social network in the world visits an emerging economy like ours, Nigeria, then there's more to it than meet the eyes.
Visits such as this are not random; they carry far more reaching impacts than the sheer buzz generated as a result. No wonder several articles have been written on this matter since the Facebook CEO, Mark Zuckerberg visited their largest market in Africa, Nigeria.
Various views have been presented all highlighting the bigger picture implications of his visit to the Nigerian tech startup scene.
In likewise manner, we at Differentiate Online being digital marketers will like to explore the impact of Mark Zuckerberg's visit on digital marketing in Nigeria. This is not an exploration of the entire industry as it were, but an insight into the various digital marketing opportunities that is going to be unlocked in Nigeria as a result of his visit.
This perspective to Mark Zuckerberg's visit is not only relevant to tech enthusiasts or the Nigerian tech startup scene in general, no. This perspective to Mark Zuckerberg's visit to Nigeria is particularly useful to every Nigerian entrepreneur, business owner and top executives in the corporate world.
 Let's dig in!
How is Mark Zuckerberg's Visit to Nigeria Going to Impact Digital Marketing in Nigeria?
As a result of Mark Zuckerberg's visit to Nigeria, the following opportunities are now available for savvy Nigerian businesses to leverage on the power of the internet to grow their businesses.
More Nigerians Online (Target Audience)
The first obvious implication of Mark Zuckerberg's visit on digital marketing in Nigeria is an increase in the number of Nigerians online.
Prior to his visit, Nigeria was already on the world's top 10 list of internet users occupying the number 8 position. With over 93 million Nigerians online according to NCC, Facebook alone has 16 million Nigerians with over 7 million Nigerians logging onto the website daily. This makes it the largest and most influential social media platform in the country!
Many more are on whatsapp, another Facebook acquired platform. With Mark Zuckerberg's visit, these numbers are certainly bound to grow.
Also, prior to his visit, Facebook partnered with Airtel in May to officially launch Free Basics on the Airtel Nigeria platform. Free Basics offers Nigerians, including 90 million people who are currently offline, the opportunity to access news, health information and services like Jobberman that were built by Nigerians and other developers across West Africa — all without having to pay for data.
That's another 90 million Nigerians more potentially coming online. This is absolutely good news for Nigerian businesses that would now have a larger target market to reach via digital marketing channels like facebook, google Ads, twitter, instagram, etc.
More Online Platforms (Media Channels)
Another impact of Mark Zuckerberg's visit on digital marketing in Nigeria is that more online platforms will be created. With more Nigerians having access to the internet, more online platforms, apps, and websites will definitely spring up.
These platforms will become destination outlets for Nigerians to consume local contents online. Consequently, they will naturally become additional media channels for digital marketing campaigns.
Meaning that Nigerian businesses who want to reach these Nigerians online will now have a plethora of media channels to choose from. With more online platforms with local contents being created, Nigerian businesses will have better options for reaching their segmented target markets.
How do I mean?
We are already experiencing this shift in the blogging community as more and more niche blogs are being created such as food blogs, auto blogs, fashion blogs, tech blogs, etc. These niche blogs will naturally attract the right target audiences businesses in this category will want to reach unlike other generic all-purpose blogs.
So instead of rushing to advertise on an all-purpose gossip blog like Linda Ikeji, with a mass audience, Nigerian businesses can now explore other more niched blogs that attract the specific target audiences they want to reach.
Being visible on niche online platforms will naturally yield more conversions for Nigerian businesses than attempting to reach a mass audience of uninterested people. This will greatly improve the overall ROI of digital marketing in Nigeria.
Increased Digital Awareness (Public Acceptance)
While discussing the impact of Mark Zuckerberg's visit to Nigeria with one of our team members, he mentioned how even okada men were discussing about it. Mark's visit has further increased the public awareness of the extent of internet penetration in Nigeria.
While this might not sound like a big deal in 2016, but way back in 2008 when I first joined Facebook, okada men didn't know what it was. That's an indication of how the digital awareness in Nigeria has increased over the years as more and more people are getting connected, especially through their smart phones.
Now coupled with Mark Zuckerberg's visit last week and the whole media buzz it generated, more Nigerians especially those offline are bound to hear about it. This will further create more public awareness and acceptance for digital media in the country.
This will eventually impact digital marketing in Nigeria as more traditional products/services that are yet to embrace online marketing to promote their businesses will gradually begin to. Why? Because even the lay man on the street is online and traditional Nigerian businesses will need to reach them.
So if you are one of such traditional business owners in Nigeria who still think the internet is for the elites alone, now is the time to rethink your marketing strategy to include digital marketing channels.
Increased Global Attention (Foreign Markets)
Nigerians weren't the only ones excited about Mark Zuckerberg's visit to Nigeria, the rest of the world were equally paying attention.
For one of the world's most respected tech founders to visit a country like Nigeria with all our bad reputations is a big deal. Especially in a time like this with all the negative reports about our ailing economy.
In business, there's a popular saying that people don't invest in ideas, but in people. Such a saying can also be applied to countries too; people don't invest in countries, but in their people. Mark Zuckerberg's visit to Nigeria has greatly improved our reputation as a people.
Now Nigerians will no longer be perceived as only a corrupt and fraudulent people, but also as enterprising, innovative and intelligent people. These are all noble qualities that will attract global attention on the long run.
So if you are a Nigerian business owner whose products/services has a global appeal and you've been struggling to reach the foreign market, now is your chance to shine. The whole world's attention is on Nigeria as a result of Mark Zuckerberg's visit; Nigeria is now on the spotlight.
Now is the time to take advantage of this and no other tool is more effective for this purpose than digital marketing. You can strategically begin to create online campaigns targeting a specific foreign market through facebook, google Ads, and even sponsored stories on international media platforms.
More Local Competition (Competition Online)
If you are still one of those traditional Nigerian businesses who haven't yet embraced digital marketing as a potent marketing strategy, you are sitting on a long thing!
With Mark Zuckerberg's visit to Nigeria, smart Nigerian businesses are going to start integrating digital marketing into their marketing arsenal. And I'm very sure one or two of such businesses are going to be your competitors.
Meaning that more local competition is about to break out online as more and more businesses embrace digital marketing. For those already online, now is not the time to just be online, now is the time to differentiate online.
Your online presence can no longer afford to be haphazard, now is the time to become an ICON online within your given industry. And to achieve this, visibility will no longer be sufficient, you will also need authority.
Mark Zuckerberg's visit to Nigeria has now opened your competitions eyes to the potentials of the internet; don't let them beat you to it. Talk to us today so we can help you create a powerful 360° online presence for your business.