Complete 360° Digital Marketing in Nigeria
Let's help you create a 360° ONLINE presence that will;
Put you AHEAD of your COMPETITION,
Grab the ATTENTION of your TARGET MARKET
Convert TRAFFIC into profitable CUSTOMERS!
Why Differentiate Online™?
Testimonials
During the development phase, we had to go over a lot of design modifications several times and yet, they never lost the same level of passion they took on the project with. And for me, that's priceless!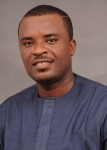 I was referred to Differentiate Online by a friend as a result of the great job they did for his nephew. I needed the website to be delivered urgently, approximately within 2 weeks and they delivered!

I think your effective delivery of personalized services, your speed of execution, your ability to deliver on your promises and total commitment to duty is what I loved most about working with you guys and what stands you out from others!

Comrade Okafor, Nonso-Smart
National President, PAY